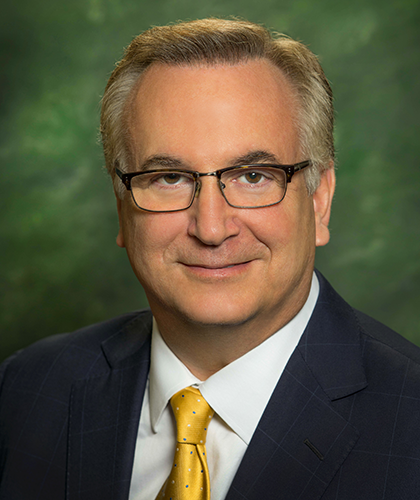 Carl D. Campbell, CPL
Immediate Past President
As a co-founder and COO of Alamo Resources LLC, Carl Campbell, CPL, has extensive industry experience in the Gulf Coast, Mid-Continent and Rocky Mountain regions of the United States and in Canada. Alamo Resources currently has holdings in the Gulf of Mexico and the Delaware Basin.
A native of Oklahoma City and an alumnus of the University of Oklahoma, Campbell began his professional career in 1983 as a landman for the newly formed PetroCorp Inc. He became a division landman in 1987 during the company's aggressive exploration and development program in the Mid-Continent region. In 1991, Campbell moved to Houston as the division landman for PetroCorp's Gulf Coast region, and from 1993 through 1999, he gained a broad spectrum of experience in varied and prolific petroleum provinces as the company's division land manager for the newly consolidated Gulf Coast, Rockies and Canada Division.
Prior to co-founding Alamo Resources in July 2004, Campbell formed Concorde Resources LLC in early 2000, successfully pursuing exploration and development opportunities in the Gulf Coast and Mid-Continent regions. Over the course of his career, he has been directly involved in producing property acquisitions and divestitures totaling in excess of $750 million.
A certified professional landman since 1995, Campbell has been an active member of AAPL, the Canadian Association of Petroleum Landmen, the Houston Association of Professional Landmen, the Independent Petroleum Association of America and the Texas Oil and Gas Association.
Campbell was elected to the HAPL board of directors in 2004 and is a past president of the organization. He served as AAPL president, first and second vice president and chairman of its Industry and Public Relations Committee as well as chairman of the NAPE Operators Committee and the NAPE Advisory Board.
In 2011 Campbell was honored as HAPL's Outstanding Landman of the Year and in 2018 as AAPL's Landman of the Year. In 2012, the Texas Independent Producers and Royalty Owners Association named him among the Texas Top Producers in the Landman category of awards. In 2013 he was selected as a finalist for the top 100 most influential Houston business leaders in the energy industry. And in 2014 he was named to the Houston Business Journal's list of Who's Who in Houston Energy.
Campbell currently serves as an advisory board member for the Robert M. Zinke Energy Management Program within the Price College of Business at the University of Oklahoma. In addition, he is a past vice chairman and a member of the board of directors for Angel Flight South Central, a nonprofit organization that provides free air transportation to patients for medical and humanitarian purposes.
Campbell lives in Houston with wife Jennifer and daughter Victoria. He is an active member of the First Presbyterian Church and a charter member of the Museum of Fine Arts, Houston as well as the Houston Museum of Natural Science.