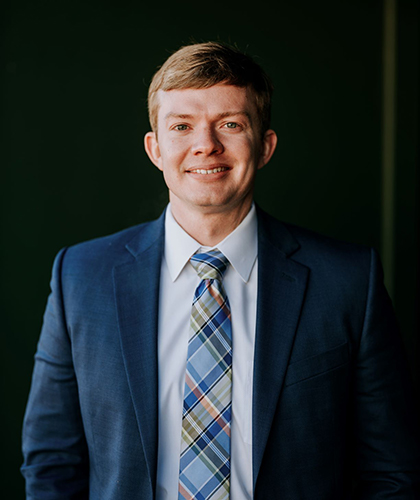 Kyle B. Reynolds, CPL
Treasurer
Kyle Reynolds, CPL, is a managing member for RBG Permian LLC. He previously worked for Chesapeake Energy in Oklahoma City in the Permian, Eagle Ford and New Ventures groups as well as led a number of cross-functional steering committees. He then moved to Birmingham, Alabama, to lead Energen Resource Corp.'s business development team and served as manager over Permian and mineral assets.
Reynolds holds a Bachelor of Arts in writing from the University of Central Arkansas and a J.D. from the University of Arkansas School of Law. He is an active member of the American Bar Association, Arkansas Bar Association, Oklahoma Bar Association, Permian Basin Landmen's Association, Black Warrior Association of Professional Landmen, Fort Smith Association of Professional Landmen, Urban Land Institute and Rotaract. He served as an AAPL local director for the BWAPL from 2015-19 and now is chairman of the Marketing Committee and a member of the Blankenship Student Awareness Initiative.
Reynolds and his wife, Amy, have three beautiful children: Lila (6), Anne Douglas (3) and Hardin (6 months). He enjoys cooking, traveling, reading, all things Razorbacks sports and spending time honing his entrepreneurial skills. His current pet project involves raising bison for a direct-to-consumer meat sales program via BuySomeBison.com.