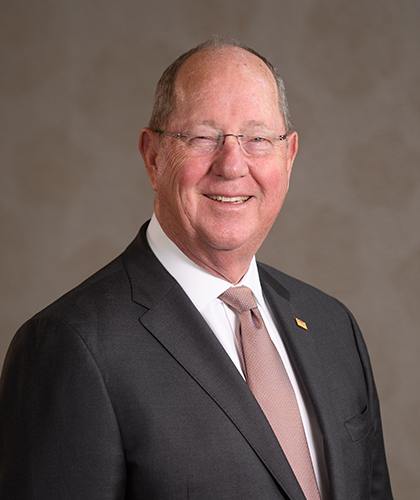 Mike E. Curry, CPL
Immediate Past President
Mike Curry is vice president of land and senior counsel for Henry Resources LLC. He joined Henry Resources in September 2014 and supervises all oil and gas legal work and land functions for the company. He is a former shareholder of Cotton Bledsoe Tighe & Dawson PC, Midland, where he was engaged in the private practice of oil and gas law for 25 years. A Certified Professional Landman, Curry is admitted to practice in Texas and New Mexico and is board-certified in oil, gas and mineral law by the Texas Board of Legal Specialization.
Curry received a bachelor's degree from The University of Texas and a law degree from Texas Tech University School of Law, cum laude. Prior to law school, he worked as an independent petroleum landman and in-house as a contract landman for Texaco Inc. His experience and legal practice covers most facets of the petroleum industry, with particular emphasis on producing property transactions, oil and gas contracts, exploration agreements and title matters. His geographic experience ranges from Alaska's North Slope to the Gulf of Mexico, and most producing areas in between, and includes work in coal and lignite mining, wind energy and natural gas marketing,
A former chair of the AAPL Forms, Ethics, Publications and Bylaws committees, Curry served as president, second vice president and director of AAPL, was assistant chair of the NAPE Operators Committee and participated in drafting the new 2015 Model Form Operating Agreement. He also is a past president of the Permian Basin Landmen's Association. A former member of the State Bar of Texas Council for the Oil, Gas and Energy Resources Law Section, Curry is a frequent lecturer and author on oil and gas subjects, with particular emphasis on operating agreement and title matters. He was selected as a Super Lawyer in Energy & Natural Resources Law in 2012, 2013 and 2014.
He and his wife of 39 years, Audrey L. Curry, live in Midland and have two adult children, Katherine and David, and four grandchildren, Elizabeth, Luke, Dexter and Finlee. Curry enjoys golf, photography and ballroom dancing.