Award Winners
AAPL Awards recognize members and local associations who achieved the highest standards of excellence in the land profession. Each year, nominations are sent to the Award Committee chair and the winners are selected by an anonymous committee. The awards are then presented at the Annual Meeting.
2018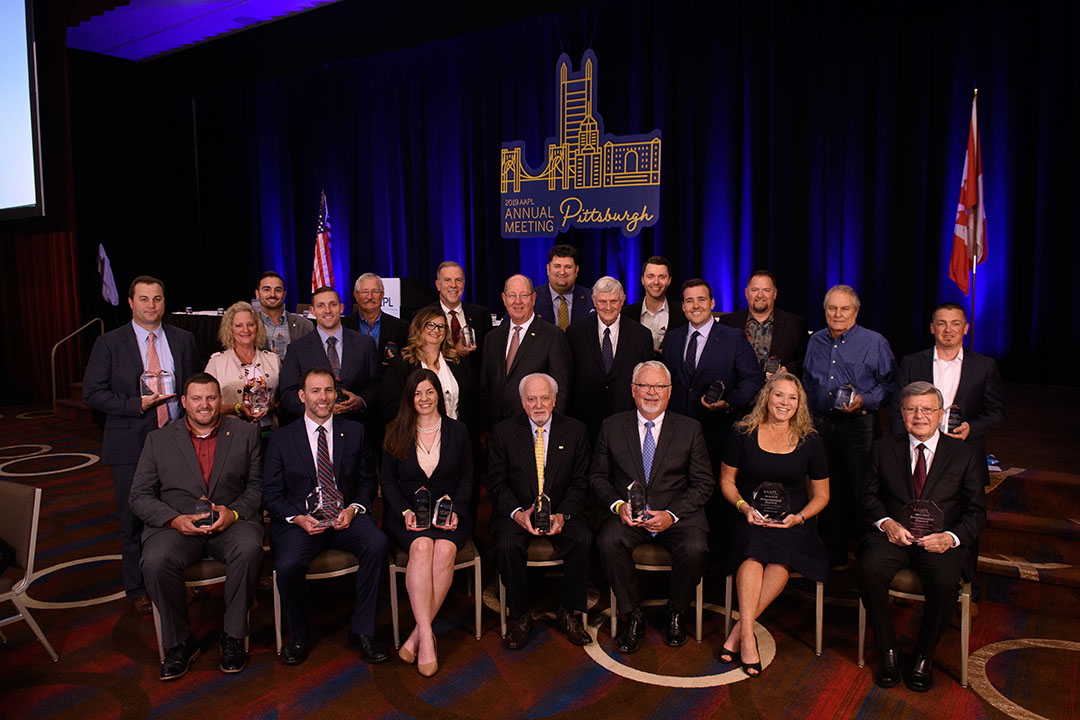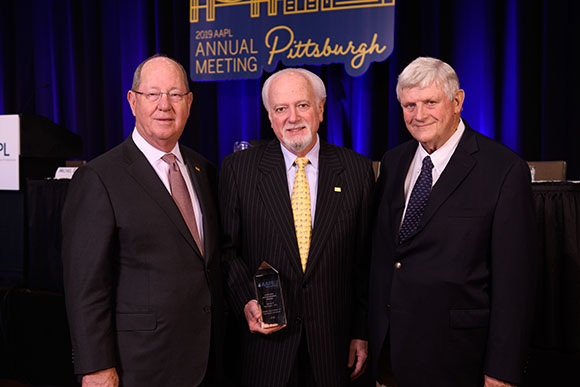 Lifetime Achievement Award
James P. McGowen, CPL
Dallas Association of Petroleum Landmen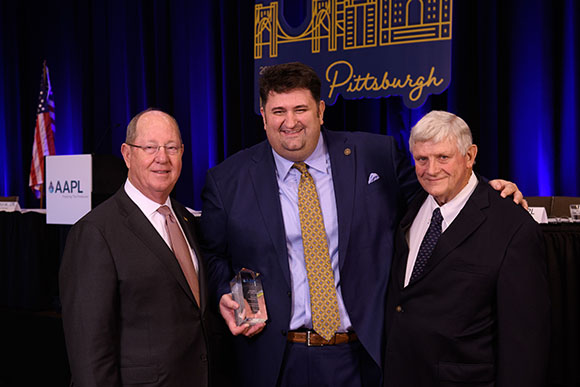 Landman of the Year
Hamel B. Reinmiller, CPL
Tulsa Association of Petroleum Landmen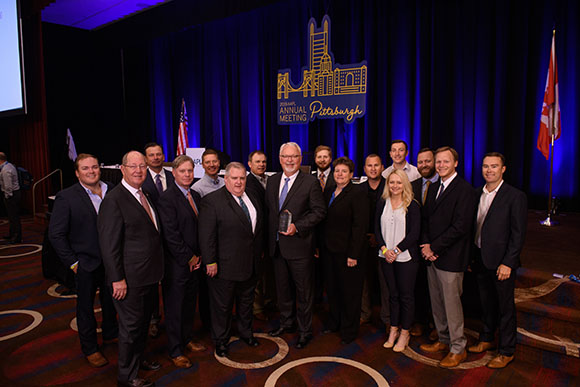 Pioneer Award
EOG Resources, Inc.
Outstanding Graduate
Jared Adams
University of Wyoming
Local Association of the Year
Houston Association of Professional Landmen
Best AAPL Director's Communication
Christa Dotson, RPL
Best Newsletter Bulletin - Medium Association
North Houston - NHAPL Fall Newsletter
Best Newsletter Bulletin Communication - Large Association
Canadian Association of Petroleum Landmen - The Negotiator (November 2018)
Best Newsletter Bulletin - Small Association
Los Angeles - The Override (Volume XI, Issue II)
Largest Growth % of AAPL Membership - Large Association
Tulsa
Largest Growth % of AAPL Membership - Medium Association
North Houston
Largest % of AAPL Membership - Large Association
Houston
Largest % of AAPL Membership - Medium Association
North Houston
Largest % of AAPL Membership - Small Association
Tri-State
Special Award - Education
A. Frank Klam, CPL
Special Award - Community Service
Anthony J. Romeo, CPL
Special Award - Committee Member of the Year
Glen L. Mauldin, CPL
Special Award
Kent J. Harrell
Presidential Award
Harold Anderson
Presidential Award
Michelle Aurzada
Presidential Award
Jerris Johnson
Lifetime Achievement
2019 James P. McGowen, CPL
2018 Steven D. Wentworth, CPL
2017 Donald L. Clark, CPL
2016 Edwin S. Ryan Jr.
2015 Jack C. Richards, CPL
2014 Alan Morgan, CPL
2013 Phil Jones, CPL
2012 Charles Stanford, CPL
2011 T. Verne Dwyer, CPL
2010 Robert "Bob" Bergfeld, CPL
2009 Harold Carter, CPL
2008 Leon Hirsch, CPL
2007 Jack Sweeney, CPL
2006 Ted Collins, Jr.
2005 Robert J. Martin, CPL
2004 Bob Garst
2003 William M. Majors, Jr., CPL
2002 Kenneth R. Good, CPL
2001 Jack McMillan, CPL
2000 Horace E. Rowold, CPL
1999 Bernard L. House, CPL
1998 James W. Beavers Jr., CPL
1997 Eugene J. Wentworth, CPL
1996 Rowald F. Champion, CPL
1995 Jim L. Hanna, CPL
Landman of the Year
2019 Hamel B. Reinmiller, CPL
2018 Carl D. Campbell, CPL
2017 Tiffany C. Pollock, CPL
2016 Mona Ables, CPL
2015 Julie E. Woodard, CPL
2014 Duane Fadness, CPL
2013 Peggy Worthington, CPL
2012 Charles Stanford
2011 Bill Rex, CPL
2010 Ted Lefebvre, CPL
2009 Roger A. Soape, CPL
2008 Vaughn Vennerberg
2007 Eric K. Hanson, CPL
2006 Bernie Ulincy, CPL
2005 Jim R. Dewbre, CPL
2004 Michael A. Ackal Jr., RPL
2003 Katherine "Kitty" S. Chalfant, CPL
2002 Leon Hirsch, CPL
2001 Alan H. Morgan, CPL
2000 Harold J. Anderson, CPL/ESA
1999 M. Don Key, CPL
1998 Kenneth R. Good, CPL
1997 Hellen Reasoner Hutchison, CPL
1996 Jack Sweeney, CPL