News
AAPL Celebrated NAPE's 25th Anniversary, and it was a BIG DEAL!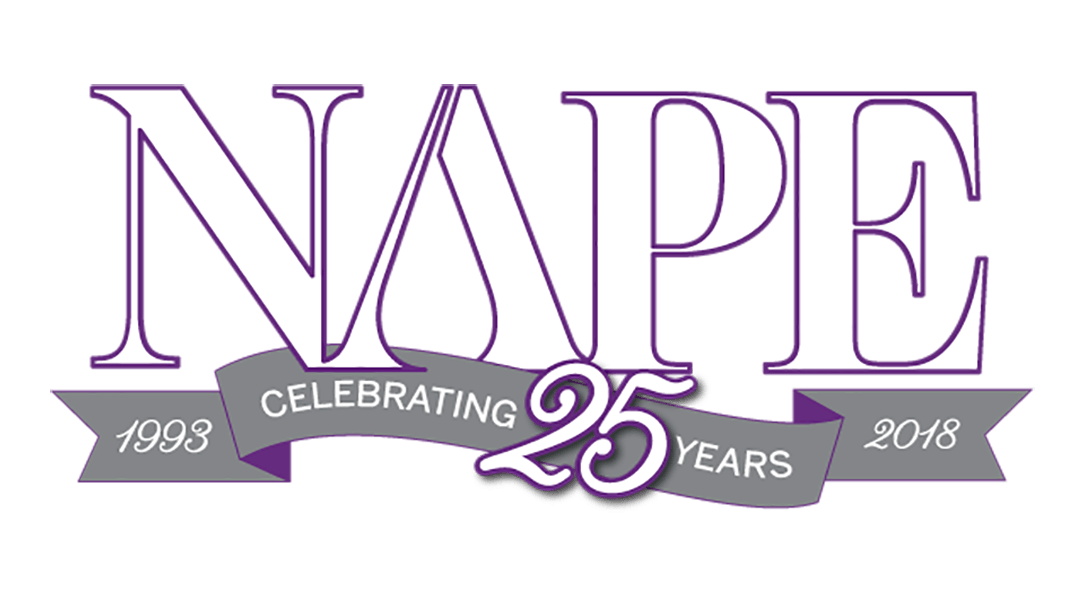 Featured in Landman, May/June 2018 / By Le'Ann P. Callihan, Director of Communications & NAPE
A party of 12,300 showed up in Houston for the world's largest oil and gas prospect expo! In addition to NAPE's flagship two-day expo, new and exciting elements were added to NAPE Summit week, including four networking events, five education seminars and a job fair. More than 700 exhibiting companies staked claim to 10 acres of expo floor space to create a central marketplace for doing deals. As managing partner, AAPL has been dedicated to the NAPE concept since day one, and 25 years later, AAPL members and the land profession can stand proud as the organizers and risk takers who made NAPE happen and essentially modernized the E&P business for future generations.
As we celebrated our history, our silver anniversary was made even more special with the attendance of all 16 living NAPE chairmen, who were honored at the NAPE Global Business Conference Luncheon. These industry leaders paved the way. From 781 attendees at our first NAPE held in the ballroom of the Westin Galleria to more than 12,000 at NAPE 25, the impact NAPE has made on our industry, the way we do business and the U.S. economy is phenomenal.
The pinnacle of the festivities — the Sweepstakes Celebration — included thousands of cupcakes and ice cream, and one huge announcement: Lucky NAPE Sweepstakes winner Mike Gable of Laredo Petroleum is now the proud owner of a brand-new silver Ford F-150. But as always with NAPE, Mr. Gable can make a deal and opt for $36,000 cash instead. What made it even more exciting was that Mike was a first-timer to NAPE. He's proof that good things happen when you attend NAPE.
The traditional elements of NAPE maintained the highenergy enthusiasm. The NAPE Icebreaker was jampacked with industry professionals taking advantage of the best networking opportunity in town. The NAPE theaters hosted prospect, capital and service provider previews given by exhibiting companies looking to maximize their exposure among the hundreds of companies participating on the show floor. And as a bonus, Texas Railroad Commissioner Ryan Sitton gave a brief presentation titled "2018 Energy Market Outlook."
The NAPE Global Business Conference continues to grow with close to 900 registrants this year. Business is knowledge, and the GBC hosted a wide range of industry topics. The conference luncheon featured a double-header with Chesapeake President and CEO Doug Lawler and Quantum Energy Partners Founder and CEO Wil VanLoh.
This year's NAPE Charities Luncheon was a hit with attendees as Jacki Pick of The Jacki Daily Show had a candid discussion with Emmy award-winning journalist Tom Brokaw, who entertained the audience with colorful stories from his longtime career covering world events. Three deserving charities — K9s for Warriors, Operation Homefront and The Mission Continues — were each presented with a $50,000 check on behalf of the NAPE Charities Fund. In addition, in the aftermath of Hurricane Harvey, the NAPE Charities Fund was able to give $50,000 to the American Red Cross to help with disaster relief efforts in the greater Houston area.
NAPE exists to find better and more efficient ways of bringing together key players in the upstream oil and gas business. Today, we provide a venue like no other for finding, facilitating, financing and closing deals. In addition to serving as a vital hub for decision-makers in leasing, exploration and finance, we've worked to further the interests of our industry. And along the way, we've also raised millions of dollars for charities and causes that are close to our hearts.
We're humbled by our success and fully aware that all of this didn't happen overnight. As we mark our 25th year, we'd like to take time out to thank the leaders, sponsors, exhibitors and attendees who made it happen. At NAPE, deals happen. And it's all thanks to you!