News | Articles
Education, Networking & Fun: AAPL's Annual Meeting in Pittsburgh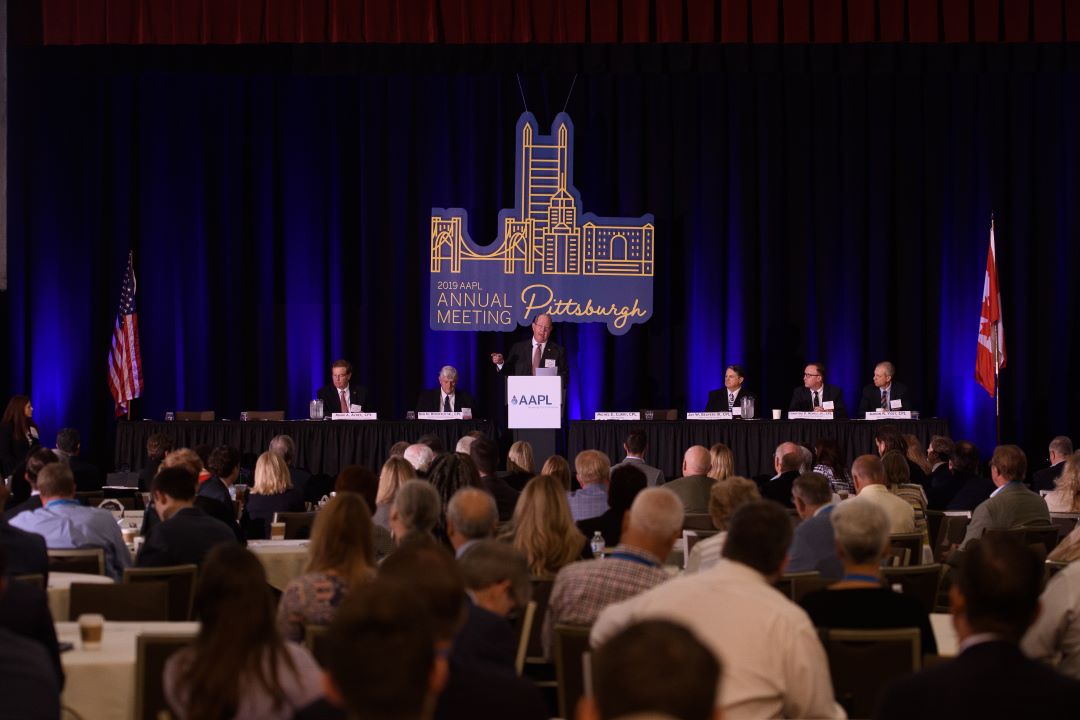 Featured in Landman, September/October 2019 / By Le'Ann Callihan, AAPL Director of Communications & NAPE
AAPL hosted 769 attendees in the spectacular city of Pittsburgh to celebrate its 65th Annual Meeting and its new brand refresh.
Education was top priority with more than 30 industry experts speaking on a wide range of topics. Alie Pruner, an independent director of Anadarko Petroleum Corp. and Plains All American and a senior advisor to Tudor, Pickering, keynoted the conference. Leading our Business Meeting, AAPL President Mike Curry, CPL, cited the major strides the association made this year in the areas of legislative advocacy, education, certification and NAPE. The future is bright as Jay Beavers, CPL, takes the reins to lead AAPL for the 2019-20 term.
New this year, attendees gathered to honor trailblazing female land leader Pamela Feist, CPL, at the Horizon Breakfast hosted by AAPL's Educational Foundation and sponsored by Steptoe & Johnson. Natalie Jefferis, former vice president of land and title for EQT Corp., gave a moving and inspirational talk about courage and advancing in the industry. Following Jefferis' remarks, Randy Blankenship presented the Mary K. Blankenship Horizon Award to Feist.
Randy's father, Wayne Blankenship, was a CPL and president of AAPL in 1975. He actively supported the association's programs and mission. He also established a fund within the Foundation to honor his wife (Randy's mother), Mary Blankenship, when she passed away. This fund supported the AAPL women's auxiliaries for many years until the group ceased to exist about 1990. But we haven't forgotten the Blankenship family's generosity, as the new Horizon Award bears the Mary K. Blankenship name.
AAPL's signature events — the Welcome Reception and Landman Bash — were huge hits with fun themes and spectacular venues, and the AAPL Championship Golf Tournament at the beautiful Club at Nevillewood Golf Course received rave reviews.
Why attend Annual Meeting? Here are our top reasons:
1. Career Advancement
AAPL's Annual Meeting offers a multitude of profession-specific educational sessions through a dual-track system. All sessions are recorded to enable attendees to take advantage of both in-person training and as well as webinar access to all sessions at their convenience. The sessions are housed on landman.org. This year, landmen could earn up to 24 continuing education credits, and CLE credits were available to attorneys in multiple states. AAPL also provided on-site testing opportunities at the meeting host hotel for those seeking their RPL and CPL designations. And as a bonus, AAPL now offers Active members a professional development discount of up to $300 off the cost of registration fees.
2. New Business
AAPL's Annual Meeting provides ample opportunity to meet with professional peers if you are seeking new business partners, looking for new opportunities or wanting to learn about a facet of the industry you may not have worked in, but has piqued your interest.
3. Networking
AAPL's Annual Meeting is the place to be for landmen to network with other landmen from all over the country. Throughout the conference, attendees can visit over breakfasts and lunches provided on the schedule, have coffee in the foyer between education sessions, utilize the attendee list to seek out old friends and business alliances, and expand their social media network. In addition, special events like the Welcome Reception, Hot Play Happy Hours, Golf Tournament and Landman Bash provide a fun atmosphere for socializing with fellow landmen.
4. Family-Friendly Fun
The Annual Meeting is a great event to combine business with pleasure. Many attendees bring their spouses and children to Annual Meeting to enjoy the destination activities as well as participate in the special events available. Countless friendships are made through Annual Meeting activities. I know of several families who have become lifelong friends and vacation partners after first meeting at an AAPL Annual Meeting.
The AAPL Annual Meeting and Professional Development Land Conference is both traditional and innovative. For over 60 years, landmen from across the country and Canada have met annually to network, learn, advance the profession and ensure that the national association for land professionals is healthy and progressing down the right path. The annual Business Meeting and luncheon covers financials, strategic plans and proposed AAPL Bylaws revisions. Take your seat at the table as a member of AAPL; attend next year's event and help continue to shape the future for your profession.