Articles
Tap Into AAPLConnect and Get the Conversation Going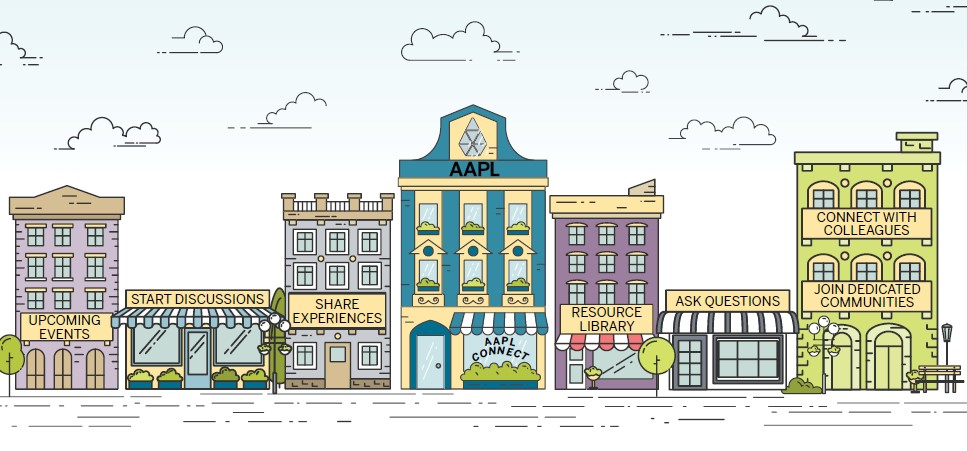 Among the many benefits of AAPL membership is the strong sense of community. And it just got even better.
We've streamlined the pathway to our association communities with the launch of an allnew AAPL member service — AAPLConnect. On this platform, numerous communities have been set up to help members network, share common interests, discuss industry concerns and forecasts, ask technical questions and more.
This robust member forum provides a place to keep the conversations going, from hot industry trends and current events affecting the profession to governmental affairs and legislative and regulatory updates — and everything in between. Have an opinion or need advice? Then join the communities that best suit you and begin sharing your expertise while also learning from your peers.
Listed below is a list of communities currently available for AAPL members to join, but the good news doesn't stop here. Additional communities can be added as needed.
Within the AAPLConnect Member Forum, you can create or join specific groups that interest you, while being assured that comments from you and your fellow AAPL members are kept in a secure forum not detected by internet search engines such as Google.
Help us build the AAPLConnect network by joining in with your comments. Your participation is welcomed and appreciated — the more land professionals contributing to the communities, the greater the value of the forum. Jump into the conversation today!
Join the buzz in the AAPLConnect communities:
Member News: The place to find the latest information on upcoming education events, member obituaries and other relevant AAPL news.
Governmental Affairs Network: A network to stay in the know on important government relations issues.
E&P Company Landmen Network: A community for AAPL members who work as corporate landmen.
Independent Field Landmen Network: A community for AAPL members who work as independent field landmen.
Local Association President & Director Network: A network for interaction among presidents and directors of AAPL's local associations.
Local Association Network: The place to connect and share ideas on events, issues and other related matters and to promote events hosted by local associations.
Renewable Energy Network: A network designed for discussions about renewable energy.
Student Network: A community designed for our next generation of land professionals.
Women Land Professionals: A community for AAPL women who work as land professionals.
Diversity Forum: A place for members to volunteer their time in support of AAPL's DEI goals. This forum supports AAPL's commitment to diversity, equity and inclusion. It is a space for members and staff to discuss ideas, suggestions and even challenges.
Appalachian, Michigan and Illinois Landmen: A group of landmen who live in or work in Michigan, Illinois or the Appalachian region.
Mid-Continent Landmen: A group of land professionals working in the Mid-Continent region.
Rockies Landmen: A group of land professionals/ROW agents working in the Rocky Mountain region.
Southeastern U.S. Landmen: A group of landmen who live in or work in the Southeastern region, including Louisiana.
Texas Landmen: A group of land professionals working in Texas.
West Coast, OCS, Alaska & Canada: A group of land professionals working along the West Coast (including Arizona and Nevada), Outer Continental Shelf, Alaska and Canada.
How to get started:
Log in to your member profile using your AAPL credentials.
Click on "Communities" tab.
Select "All Communities" to see a list of available communities.
After joining, you can view all your communities under the "My Communities" section.
How to post or start a discussion: Click on the "Participate" tab and then select "post a message." This page will allow you to post to a community in which you are already subscribed. Select the community to post your message and then decide if you want to cross post it to another community. Once you are done with your message, hit post and you are all done! Another way to create a new post is within the "My Communities" section. Once you select the community to post your message, you will see the "latest discussion posts" for that community and can click the green "add" button or navigate to the "discussions" and click on the green "post new message" button.
How do I comment on a discussion? Simply click on the thread subject and then click on "reply." You can also "follow" a discussion if you'd like to stay in the know about the replies but without commenting by clicking on the "follow star."
Questions about how to use AAPLConnect? View the FAQs on the website.